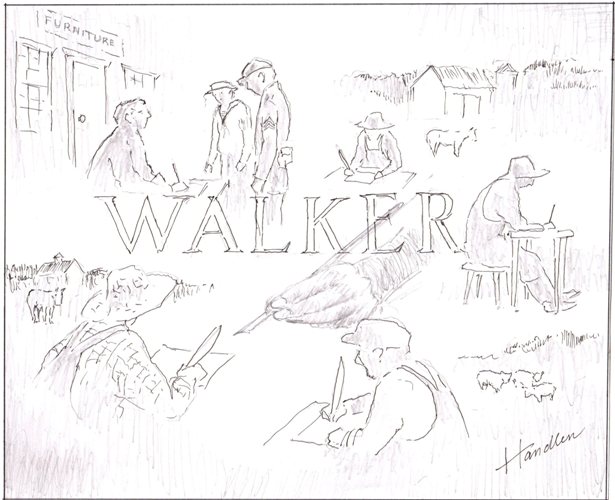 Many wonderful books have been written about the history of Kennebunk. As enlightening as they are, the historical research does not always agree from one book to another. Modern researchers trying to reconcile the differences are fortunate to have several document repositories nearby. Old newspapers often reveal long-hidden historical details, but there's nothing like personal accounts in old diaries to animate and illuminate the facts.
Diaries were kept by many local citizens over the years. Several diaries written by members of the Walker family have survived and are available on microfilm for public use at the Kennebunk Free Library.
Our best known diarist, Andrew Walker Jr., spent the majority of his adult life as the proprietor of a furniture store in the Village of Kennebunk. When he began writing his diaries on January 1, 1851 he was also the Kennebunk Town Clerk and the Town Treasurer. In the spring of 1862 the town requested that Andrew keep a military history of each Kennebunk soldier who served in the Civil War. If ever there was a man with his finger on the pulse of Kennebunk, it was Andrew Walker Jr.
Being a record keeper by profession and by nature, he recorded events and biographical sketches with remarkable precision, including keywords in the margin of each entry that he later transcribed into an index for each of the 11 volumes. The index has since been cross-referenced and printed in a separate volume.
Andrew seemed to have an inkling of the potential value of his efforts to future historians when he claimed to be "Noting down many events in this vicinity that now seem of importance but will presently dwarf into mere littleness, other events now insignificant in our eyes, but one day will assume an air of important magnitude." That inclination to leave nothing out no matter how insignificant it may have seemed at the time, is what makes his diaries so very useful. He also admitted to a small measure of vanity in the endeavor when he wrote, "As a woman likes to view herself in a glass, so a man likes to see himself in his diary." Andrew Walker Jr. made his last entry on Aug. 13, 1897, two years before his death.
Andrew 's first cousin Tobias had started keeping a very different kind of diary in 1828. Neither meticulous nor indexed, Tobias' journal is a record of the day-to-day happenings on his Alewife sheep and potato farm. His entries covered mostly farm business — who he traded with, who had given him a raw deal, how much he sold the butter for, and family business like who went to the meeting house, who went to the beach to "wash," and who was feeling poorly. As the years went by more and more responsibility for the farm gradually fell to Tobias' eldest son, Edwin.
His second son, William, who didn't stand to inherit the family farm, married the daughter of Samuel Cleaves, a farmer from just across the Kennebunk River in North Kennebunkport. The young couple moved into a house on Curtis Road next door to Samuel Cleaves. William made the first entry in his diary on his wedding day, Dec. 15, 1846. The next day was spent setting up the furniture in their new home. William mentioned that he found the work pleasant. A few days later, Tobias surprised his son with a gift of a slaughtered pig.
The couple frequently had visitors in the early years who just stopped by to pass some jovial evening hours. Neighbors were always present to help with time-sensitive farm jobs. Shortly after William and Mary's first child was born there was a heat wave that lasted for many days. The heat and mosquitoes were so troublesome that none of them couldn't sleep. The whole family relocated to the barn one night and on a pile of hay and enjoyed the first good night's sleep in a week.
Tobias Walker died in 1865. His son Edwin took over the Alewife farm. Like his brother William and their father Tobias, Edwin kept a daily diary until he died in 1891.
These farm families worked hard but they did not lead miserable lives of nothing but toil, especially when the children were young. There were family trips to the circus in Biddeford, afternoons of fishing and berry picking, clambakes, sailing excursions and sea bathing at Two Acres, Hart's Beach and the Goose Rock Beach. Sometimes on a very hot day the whole neighborhood would caravan to the beach in 8 or 10 carriages.
The farmer diarists occasionally made note of important historical events like the tragic shipwreck of the local barque Isadore, in 1842, and the accidental death of Jesse Webster  when the cannon he was loading for the Kennebunk Centennial Celebration exploded. This is not the primary value of these journals.
They are unselfconscious accounts of the way 19th century life was in the Kennebunks; What it was like to have to go to the mills to grind your corn or to lose half of your family's food supply in a cold snap, or to weather the loss of one loved one after another. They offer historical context, which is so hard to absorb from a history book.