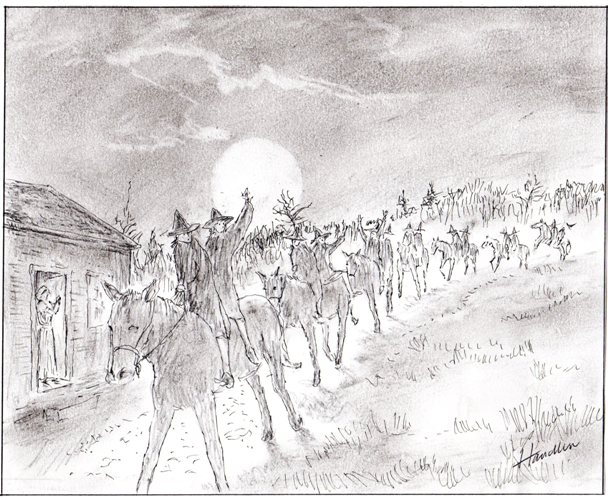 As Halloween approaches, images of witches magically appear in shop windows. We indulge our fancies with an annual flight to a charmingly spooky world where witches wear identifying head gear and brooms fly. At one time in New England, an accusation of witchcraft could end at the gallows, as it did for Wells minister Rev. George Burroughs during the Salem, Massachusetts delirium of 1692.On Oct. 21, 1725 widow Sarah Keen of Kittery was publically accused of being a witch by her Spruce Creek neighbor, John Spinney, the weaver — long after the horrors of Salem neighbors used accusations of witchcraft to ostracize neighbors.
Sarah wasted little time in calling upon Kittery Justice of the Peace, Col. William Pepperrell, to have her accuser arrested. Once Spinney was in custody, Pepperrell heard testimony from a few witnesses to the accusation and he imposed a moderate fine of five shillings plus court fees. If Spinney had paid the fine that might have been the end of it but John had personal reasons for slandering Sarah.
The justice system in colonial York County had three levels: Local Justices of the Peace were like police. They could arrest and fine for minor offenses. Justice William Pepperell Sr. made those decisions at Kittery. If a suspect like Spinney appealed the judgment of the Justice of the Peace with reasonable cause, his case was escalated to the next session of the Court of Common Pleas. That court, held in the Town of York in 1725,  had regular sessions three times a year and quarterly sessions four times a year. The General Assembly met just once a year for only the highest level cases.
Spinney did appeal Pepperrell's ruling, complaining that he had not had sufficient time to call his own witnesses. His appeal was heard Jan. 1, 1726. Though Spinney denied calling Sarah a witch, his many witnesses described a variety of incidents that served to reinforce the notion. A few of those alleged acts of witchcraft follow.
Elizabeth Pettegrew claimed that one night at about 9 or 10 o'clock, she saw a coven of witches frolicking in the moonlight with Sarah Keen. Elizabeth heard noises down the country road toward the Keen house, from her doorway that night. She moved a little closer to investigate and saw Keen on horseback with a riding hood pulled up over her head and a white handkerchief about her neck. The moon shone brightly on a coven of 14 women riding double on seven horses behind her. They seemed to be very merry, talking and laughing loudly as they rode on by. Clearly the behavior of witches.
John Harmon and Samuel Remich testified that they were with Paul Wentworth at a tavern in Portsmouth one night. Wentworth told them that he saw Mistress Keen strike the fire and make it fly all over the house, thereby bewitching her daughter.
Paul Williams testified that he had been present when Sarah threatened to put a bridle on Spinney and ride him like a horse to Justice Pepperrell's house. Others reported that Sarah had ridden Spinney from the eastward and kept him tied to her plum tree all night.
Reference was made to widow Keen's extra nipple. It made even Sarah wonder, from time to time, if it might not be there to nourish the devil. She had expressed concern to other women in town that around the time of the Salem hysteria she thought she might be a witch and not know it.
Many of Keen's neighbors from the tiny hamlet of Spruce Creek turned up to support Spinney's claim. When all was said and done the judgment against Spinney was reversed for insufficient evidence.
Examination of earlier court documents reveals some possible clues as to why Sarah's neighbors were so willing to throw her under the wagon. Throughout their residence at Spruce Creek, Sarah and her deceased husband, Nathaniel Keen had made plenty of enemies.
Nathaniel Keen fought with his neighbor Paul Williams over ownership of a field between their properties. Keen and Spinney's in-laws, the Shepards, had been in and out of court for  13 years over ownership of a  10-acre parcel of land between their houses. Keen's ownership of the land was eventually affirmed. Samuel Spinney, John the accuser's father, was among those who petitioned Kittery selectmen to install a landing on the creek. The approved road to the landing encroached on Keen's property and he legally succeeded in blocking Spinney's access to the creek.
Nathaniel Keen was also notorious for his temper that on more than one occasion turned to physical violence. He was arrested for beating his slave Rachel to death in 1694. The value of a slave's life being what it was at the time, charges were reduced from murder to cruelty and Keen was fined five pounds plus court costs.
Sarah Keen also had a volatile temperament. In one instance she went after William Godsoe with an axe. When chided for unchristian-like behavior by one of her neighbors, she reportedly replied, "I did not profess no Christianity."
It seems that when an opportunity presented itself to exact revenge the Keen's neighbors lined up to take it out on Sarah in court.