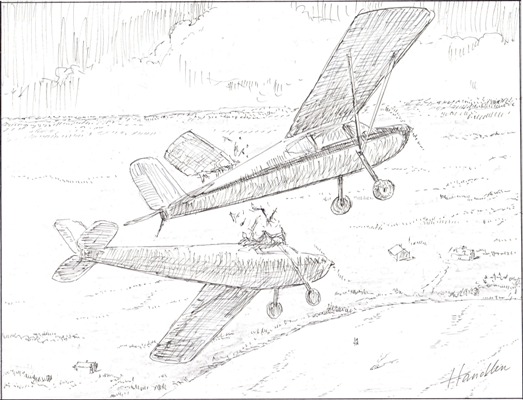 Unassuming little Sanford Regional Airport sits quietly between the roads from Sanford, Alfred, Kennebunk, Wells and North Berwick. From its understated appearance one would never guess at the history it has seen, in times of war and peace.
Sanford Town Engineer, Earnest Gallant, oversaw initial construction of the runways in 1930 on land owned by Lela H. Goodall Thomurg. One of the local leaders of the project, Dr. S. H. Cobb, traveled to Portsmouth, N.H. on July 3, 1930 expressly so that he might catch a plane there and return as the first passenger to land at Sanford Airport.
A reception party, including Mayor F. W. Hartford, Frank W. Randall and Major A. Leon Smith, greeted Dr. Cobb as he climbed out of his pilot's plane. Later that same day Army fliers arrived to look over the facilities. They were already planning to use the airfield during the New Hampshire National Guard annual encampment.
William Campbell, President of the Goodall Worsted Company, founded Sanford Airways in 1931. After several improvement were made during the 1930s and early 1940s, funded primarily by New Deal agencies, the Sanford Airport was leased to the Navy in 1942. By then it boasted three lighted, paved, 3,000-foot runways.
Freeland K. Smith of Kennebunkport was working at the Brunswick Naval Air base during World War II. He recalls that Sanford Airport was used by the Navy to augment the Brunswick Naval Air Station. "Route 109 had to be relocated to accommodate the Navy expansion," said Freeland. "A hangar and maintenance buildings were built. The air strip was painted off to represent an aircraft carrier's deck and provisions put in to install the arresting cables just like on a carrier. Of course those cables were only in place during the training," he continued.
Mr. Smith remembers that at Brunswick and at Sanford, "British Carrier fighter pilots were trained to fly the Vought Corsair fighter plane, the hottest fighter plane capable of landing on a carrier. British pilots were brought here, assigned to a new airplane and after completing their training, returned to England with the plane."
At a special meeting after the war, the Town of Sanford deliberated whether or not to accept the airport back from the Navy. The meeting was covered in the Portsmouth Herald. "Should the commission accept the airport which contains 300 acres of land, hangers and other buildings, the town would be responsible for its upkeep. Several Quonset huts and a few other buildings, including a mess hall, will not be included in the deal." The town did vote to accept the airport but it was to be  administered by a state Airport Commission, not the Town of Sanford.
During the transition, Sanford Airways owned several Cessna 140 airplanes for flight instruction and pleasure flying. On Nov. 19, 1947 two Bowdoin College students, Richard E. Eames, 21, of Winterport, and William Campbell Jr., 21, of Kennebunk, took out two of the planes. Eames was a WWII veteran and already had his license to fly. Campbell, a student flyer, was the son of the late William Campbell, president of Goodall Worsted Company until 1944.
The classmates had just taken off from Sanford Airport when they collided in mid-air. Richard Eames did not survive. Cecil Chadbourne told a reporter for the Portsmouth Herald that he heard a crash and turned toward the noise just in time to see Eames' plane falling in pieces from the sky. It had rammed the side of Campbell's craft leaving him with a gaping hole in the side of his plane. Campbell managed to set his disabled plane down just off the runway. He told a reporter for the Portland Press Herald that he had no idea what had caused the collision. "Eames took off first and made a turn," Campbell said. "When I took off Eames was at 800 to 900 feet, 500 feet above me and ahead of me. He crossed ahead of me and about 300 feet above. I continued climbing and turned left. Then I saw him coming at me sideways in a bank. He was right on top of me in an instant and we collided."
Richard Eames' death left his parents childless. His only brother had been killed in the war in 1945.
The Navy used Sanford Airport again for a couple of years during the Korean War and Sanford Selectmen took over its administration in 1953. Colonial Aircraft Corporation moved to Sanford to manufacture amphibian planes in 1955. They chose Sanford for its airport and for its large empty woolen mill that served as the perfect inexpensive location for their factory. Colonial was acquired by Lake Aircraft Corp in 1959. A new, larger plane called the Lake Amphibian was built. Several other designs followed until 1970 when Lake Aircraft business offices were moved to Houston, Texas. The Lake factory and hanger at Sanford Airport were later sold at auction.
Sanford Regional Airport is now overseen by an Airport Advisory Committee of the Town of Sanford and a part-time airport manager. It's the home of Southern Maine Aviation, LLC., which offers flight instruction, plane rentals and scenic aerial adventures. Only two runways remain but they adequately service celebrities, Senators and even Presidents of the United States from time to time.