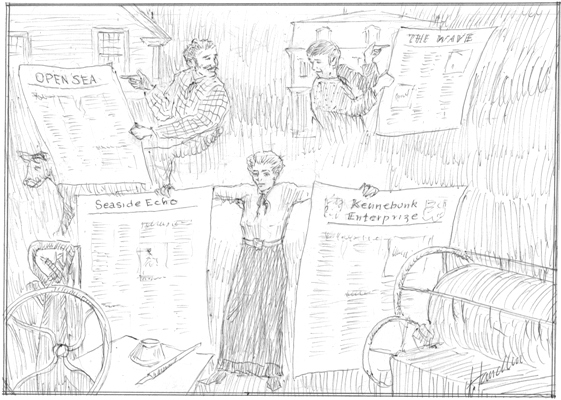 Summer newspapers in the Kennebunks have been published by all kinds of people; a wet-behind-the-ears son of a Kennebunk farmer, a big city dandy who arrived with much fanfare but left town under the cover of darkness and a woman of fortitude who never allowed her gender to be a handicap, to name but a few.
When John Collins Emmons started "The Wave" in 1887 at the tender age of nineteen, he was already an experienced "journalist". As a reporter for the "Old Orchard Summer Rambler" he had learned that a successful summer resort paper needed to include plenty of name dropping and local gossip. Emmons delivered the hotel registers, train schedules and an occasional stock engraving twice a week. Advertising sales were brisk and by 1892 The Wave was 8 pages long.
Constantine Annis, the superintendent of circulation of "Godey's Magazine" of New York, arrived in Kennebunkport that summer with a 170 lb Saint Bernard named Kinglimmon. The poor beast, who was reportedly the largest canine born in America, was employed by Annis to advertise the establishment of a new summer paper in the Port called "The Open Sea." Kinglimmom pulled local children around in a dog cart adorned with a flashy billboard.
The first issue of "The Open Sea" was published in July 1892. Annis boasted that the paper would include half-tone photographs by A. B. Houdlette. Vaughn Island real estate was advertisements covered the back page as they would be for the next three years. Annis wrote in his first editorial, "The Open Sea is a business investment and the Publisher having a pecuniary interest in property within the district is naturally desirous of enhancing its value through the medium of this paper." The Open Sea, he wrote, "was far better than any other summer paper in town." Since The Wave was the only other summer paper in Kennebunkport it was a direct affront. Emmons tried to appear unfazed but he did call in question Annis' self-serving motivations. That summer real photographs appeared in "The Wave" for the first time.
By 1895, the real estate development on Vaughn Island had failed and Con. Annis had lost his winter job at Godey's Magazine. He started a year-round paper in Kennebunk called "The Kennebunker" taking on "The Eastern Star." On May 2, 1896, Annis, finding himself overcome with debt, sent letters to all his local creditors apologizing for the fact that he would not be able to pay them back. He left town in the middle of the night, never to return. Emmons gloated in the first 1896 issue of "The Wave," calling Con. Annis a third rate confidence man. The disgraced dandy fled to Alameda California where in 1913 he started the California branch of the Modern Order of Praetorians, a new fangled life insurance Company. Emmons sold The Wave to Henry Dean Washburn before the 1906 season began. His printing business went to Lester Watson. Emmons was the force behind The Wave and it folded in 1908.
While Con. Annis was trying to stave off his creditors in Kennebunk the former Annie Joyce of Brunswick, Me. was trying to adjust to being a wife and mother. As a child of 7, she had sailed to San Francisco with her father Captain Daniel Joyce and the family later moved to Japan. Annie learned a lot about the world, first hand. When she returned to Brunswick, Maine as a teenager she could not be contented to wait in the parlor for a husband to determine her future. She went to work for the Brunswick Telegraph and learned every aspect of the newspaper business.
Annie did eventually marry Dr. David B Crediford in 1894, whom she had met while he attended Bowdoin medical school. After he was discharged from his job at the Augusta State Hospital for the Insane, amid scandal, David, Annie and their infant son Richard moved to Kennebunk, Me. The marriage was a rocky one. Annie was uncomfortable with her role. Dr. Crediford ran off to California with another woman and Annie was granted a divorce in 1900. To preserve her reputation, she told her Kennebunk neighbors that her husband was dead.
The "Widow" Annie Crediford got to work. At first she was employed at the short-lived Kennebunk newspaper, The Local News. In 1901 Mrs. Crediford started the summer tourist newspaper, The Seaside Echo, which survived The Wave. In 1904 she established The Kennebunk Enterprise in Eastern Star territory. Unlike Star editor, Lester Watson, Annie never hesitated to express an opinion on local matters. Steven Burr reports in his 1995 book "Kennebunk Main Street," that Annie led the fight for a public sewer system in Kennebunk. In addition to the two newspapers Annie ran a fully equipped job printing company and a wood yard that put out 500 cords of wood a year. By the time her son, Richard Vaughn Crediford reached adolescence, Annie had saved up enough money to take him to meet his father in Rialto, California.
The Seaside Echo went out of print at the beginning of World War I. Richard took over his mother's printing business and in 1920 she finally retired the Enterprise, but not before earning the deep respect of readers and competitors alike.