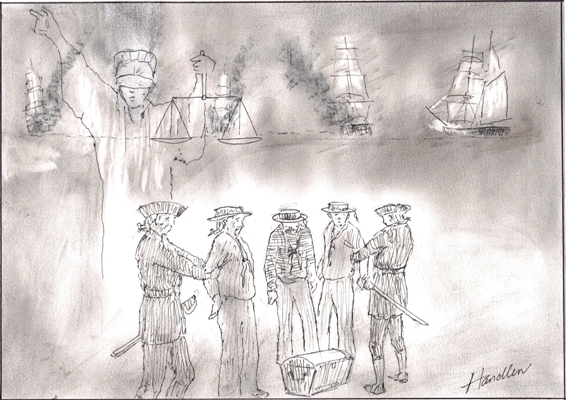 Mainers have heard stories about pirates Dixie Bull, Captain Kidd and Samuel Bellamy cruising the coast in the 17th and early 18th centuries, but little has been written about the pirates caught trying to smuggle stolen Spanish cargo into Portland, Maine in September 1817.
During the War of 1812, patriotic privateering was a lucrative business for American mariners. The United States Congress issued Letters of Marque and Reprisal authorizing designated ships to attack and pillage enemy vessels. The law required that prize ships be condemned and that booty proceeds be divided between the privateer owners and crew. Goods seized were often delivered to reputable merchants at a lower than usual cost in exchange for financial backing for the privateer. No matter how temptingly profitable it may have been, it was never legal to plunder vessels from countries the United States was not at war with.
When U.S. peace was restored in 1815 some of the privateers and their U.S. merchant partners could not bring themselves to give up the huge profits of privateering. They set up dummy registrations and residencies in South America to subvert U.S. piracy laws.
Buenos Aires was fighting for independence from Spain after the War of 1812 and it proved a convenient location for Baltimore, Maryland pirate, Joseph Almeida, to set up a second home. Whenever necessary to avoid conviction for looting Spanish ships, Almeida would claim citizenship in Buenos Aires even though his family still lived handsomely in Maryland and his 10-gun Privateer El Congresso, was built and armed by Baltimore merchants.
Five American sailors, who had all arrived in Portsmouth, N.H. on the sloop Aurora, out of Portland, aroused suspicion on Sept. 7, 1817 when they each tried to exchange $1,000 in Spanish gold and silver coins at a Portsmouth bank. The purchasing power of $1,000 in 1817 would equate to about $170,000 today; an unusual sum for low-level seamen to receive in payment for a voyage.
The Portsmouth Customs collector was alerted to the suspicious circumstances and he immediately seized the Aurora under the command of a Capt. White from Portland. All her passengers and crew were rounded up for interrogation. As a result of the investigation, three of the crewmembers, John Palmer, Thomas Wilson and Barney Colloghan, all of Massachusetts, were indicted for piracy. The following details of the case were revealed in newspaper reports and court transcripts.
The three accused pirates had sailed the previous May from Baltimore, in the ship El Congresso, under the command of Capt. Joseph Almeida. During the cruise, the Congresso captured several Spanish vessels and after having taken valuables out of them, sank, burned or destroyed them.
On July 4, 1817, the Congresso captured a most valuable Spanish ship, the Industria Raffaelli, as she sailed from Havana to Cardiz. Her cargo included 500 boxes of sugar valued at $20,000; 60 pipes of rum worth $6,000; honey, coffee and hides that together were valued at $6,000; and $60,000 in gold and silver specie.
The Industria's Spanish crew was replaced by a prize crew under the command of Capt. Diggs. According to the prisoners' testimony, Capt. Almeida ordered the prize to sail for Buenos Aires, but four or five days later, a Portland man named Davis took control of the Industria and sailed for the coast of Maine. She came to an anchor in Hussy Sound, between Peaks Island and Long Island in Casco Bay. There, a fishing boat met them and carried Capt. Davis ashore. The next morning the captain returned with three sloops. Cargo, sails, rigging and iron salvaged from the Industria was loaded onto the Betsy and the Abby and brought quietly into port without attracting the attention of the customs collector.
The whole crew except for Capt. Davis was put on board the sloop Aurora, with their cut of the Spanish gold and silver. What was left of the Industria Raffaelli was disguised and abandoned. When she was recovered some time later near Cape Elizabeth, it took a while before she was identified. Her name had been blacked out and a piece of canvas with the name John of Norfolk painted on it, had been nailed to her stern.
There was no doubt in anyone's mind that an act of piracy had been committed, but the United States piracy laws in force at the time only applied to acts of piracy against the United States. Because El Congresso sailed under the Buenos Aries flag and attacked a Spanish vessel, the American pirates were acquitted. The only action that could be taken was to condemn the sloops Betsy and Abby for knowingly subverting U.S. Customs collection. As a result of the impotence exposed in U.S. Piracy Law by this case, an expanded legal definition of piracy was adopted by U.S. Congress on March 3, 1819.
Joseph Almeida, also known as Don Jose Almeida, plundered hundreds of Spanish vessels before he was captured in 1827. He was imprisoned at El Morro in San Juan, Puerto Rico, and was finally executed for piracy against Spain on St. Valentine's Day 1832.