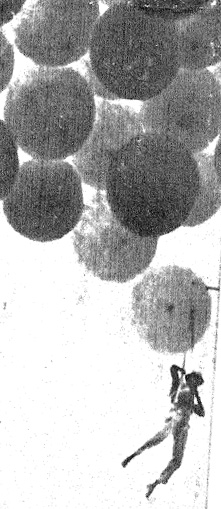 Al Mingalone, Paramount Newsreel Cameraman of Pelham Manor, NY was given a risky assignment on September 28, 1937.  He was to film Old Orchard Beach Country Club golfers while dangling from a cluster of 28 four-foot hydrogen-filled balloons tethered to an automobile bumper.
In an article Mingalone wrote for Yankee Magazine in 1986, he explained his acceptance of this dangerous assignment.  "In my job I covered pilots, acrobats, soldiers and athletes.  I once rode on the back of a motorcycle to film a bicycle race; I straddled a periscope in the open ocean to film a submarine going under. This time my boss thought it would make a great story if I balloon jumped and filmed from the air while another
Camera man filmed me from the ground. I was making $75 per week, and he offered me a $50 bonus; with a wife and four kids to support, I couldn't turn him down." 
Father James J. Mullen of St. Margaret's Church in Old Orchard Beach blessed the balloons before the experiment began.
Two rolls of film were already in the can when Mingalone decided he needed a slightly higher filming position. Two balloons were added.  As soon as the cluster of balloons was released Mingalone shot upward. The 100-foot safety line, his only connection to mother earth, held for a moment and then snapped. Locker-boy Thomas Bowman chased the escaping clothesline into a potato field across the road. The line was all but in the boy's grasp when he stumbled.  The cameraman floated away in a strong northeast wind.
Mingalone rose 2,500 feet into a rain cloud. Al's partner, Phil Coolidge and Father Mullen jumped into an automobile and followed Mingalone toward Saco. Two miles later they spotted the drenched cameraman descending to 600 feet from the added weight of his soaking wet sweater.  Father Mullen, who just happened to be a sharpshooter, grabbed the rifle Paramount had supplied for just such an emergency and fired off two shots at the balloons. His first shot missed but the second punctured two of the hydrogen bags. Much to the holy man's relief Mingalone started to sink earthward.
While the men on the ground were doing their part to rescue the photographer, he was formulating an ill-conceived plan of his own. With scissors in his teeth he began to climb the 15 feet up his harness ropes to the ring that held all the balloons. His intention was to cut a few balloons free to speed his descent but when he had almost reached the ring his hands went numb from the cold causing him to drop his 12-pound Bell and Howell Camera.  Loss of the ballast sent him upward again only this time he was hopelessly tangled in his harness ropes. 
Father Mullen and Phil Coolidge had lost sight of Mingalone. Sirens wailed, spectators speculated, York County was abuzz. Finally someone in the crowd spotted Al floating at 200 feet over the Alfred Road in North Kennebunkport. Father Mullen jumped out of his car, dropped to one knee and fired the shot that brought the cameraman gently back to earth.
He landed in George Goulet's cornfield on the Limerick Road near what is now Clearview Estates. About an hour after his harrowing 13-mile flight began the Goulet brothers pounced on Al Minalone in a thistle patch to keep him earthbound while they cut him out of the harness.
Uninjured and apparently unfazed by his aerial stunt Mingalone returned that evening to Old Orchard Country Club for a round of bridge with Father Mullen.  The story was covered by newspapers nationwide. 
1937 was a big year for Mingalone.  He had filmed the Hindenburg disaster in May.  It was the footage he took while aloft in Maine that won him a National Headliners Club Award on July 10, 1938. 
Mingalone had been one of Paramount News's premier newsreel cameramen since 1928. He documented history for the short films played before every movie in theatres throughout the country until television made the newsreel redundant.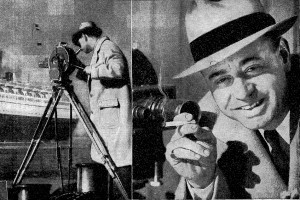 As a celebrity, he posed for several Camel Cigarette ads in the 1930s claiming that he grabbed his meals as they came.  "Getting the picture always comes first! With Camel's help my digestion always stands up under the strain. I smoke Camels right around the clock – they don't jangle my nerves, irritate my throat or tire my taste." 
 Al covered many political campaigns during his career. Truman was his favorite president.  "He was one of the best guys to be with," Mingalone once said. "He talked like you and me and called a spade a spade."  Albert Mingalone died in Hackensack, NJ in 1991.
 Mingalone's 35mm footage remains in varying states of preservation and is owned by SPPN Images Inc. in California; the world's largest private film library. The entire Paramount Newsreel collection is being digitized.  Award winning reel 6519, which includes Mingalone's balloon ride to North Kennebunkport and an interview with the flying photographer will certainly be on my YouTube.com watch list.     See http://www.mykennebunks.someoldnews.com/mingalone.htm