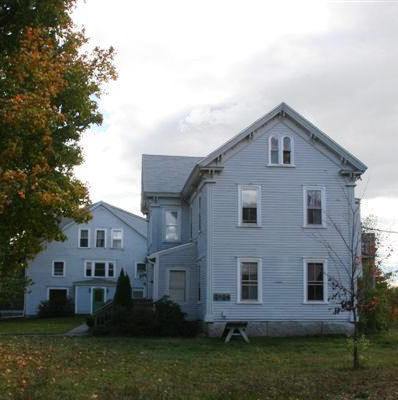 The Pine Tree Sanitarium, now known as Country Meadows Apartments on Route 109 in Wells, received worldwide publicity with its first patient in 1909.
New York physician Dr. Frederick A. Cook claimed to have been the first to stand at the axis of Earth's rotation on April 21, 1908. Forced to winter in an underground den at Cape Sparbo, Canada after leaving the Pole, Cook's declaration was delayed until Sept. 1, 1909. Five days after Cook announced his accomplishment Mainer Robert Peary reported that he had been the first to reach the geographic North Pole on April 6, 1909. Peary launched an all out assault on Cook's veracity. Cook defended himself with allegations that Peary had stolen his notes from an associate. The controversy was good for newspaper sales. The New York Herald paid Cook $3,000 for a written account of his expedition to be printed it in 12 segments under the headline "Conquest of the Pole." The New York Times supported Peary's claims and printed every disparaging remark he made about his rival. Dr. Cook's proofs were to be examined by scientists at the University of Copenhagen for authenticity during December of 1909. While he awaited the verdict Dr. Cook wished to avoid the press. Planting conflicting reports of his whereabouts Cook slipped off to Wells Depot Maine becoming the first patient of the newly opened Pine Tree Sanitarium.
Deeds recorded at the York County Court House in Alfred indicate that Eva Pitt of Boston purchased the old George Hatch homestead on Sanford Road, Wells Depot in 1907. She and her husband Dr. Thomas Smith Pitt opened the Pine Tree Sanitarium for business in November of 1909. Seeing the name of their new sanitarium appear in newspapers worldwide as the reputed hiding place of elusive explorer Dr. Frederick A. Cook, the new business owners were conflicted. They certainly intended to protect the privacy of their patients. All their ads promised they would but when a reporter for the Portsmouth Daily Herald appeared at her door on November 30, 1909 Eva Pitt could not bring herself to discourage him entirely. "I'm not saying that he hasn't been here" she said "They'll have hard work to find him as we are well fitted here to take care of just such cases." Sightings of Dr. Cook were also reported in Philadelphia and in New York. Just as attention to the Wells sanitarium was dying down and other hiding places were being suggested by the press a New York Times reporter tracked Dr. T. S. Pitt down at the train station in Boston on Dec. 9.
"I am tired of this badgering. Dr. Cook is at the Pine Tree suffering from nervous breakdown, but is steadily on the mend. I am running a sanitarium at Wells, not a news-distributing bureau and I am tired of being pursued by reporters."
Wells Depot citizens also had their say in the papers. With a population of about 200 people and one road in and out of the village strangers in town were rarely missed. Uriah A. Caine, telegraph operator and Boston and Maine Railroad employee, recognized the explorer when he got off the train at Wells Beach from the pictures in the newspaper. Dr. Cook hired Earl York to drive him to the sanitarium. Earl tried to engage him in conversation but the doctor hid his identity under a large fur overcoat. Mr. Hilton, the sanitarium's nearest neighbor, watched the carriage pass his house and discharge its passenger at Pine Tree. "The patient has a room on the second floor and he went to bed at 9 o'clock" said Caine, who spent the evening of November 29 at the sanitarium. The news from Copenhagen was not good. Dr. Frederick A. Cook was discredited and Peary was celebrated as a hero. Cook fled the country in shame but the controversy about who first set foot at the North Pole rages on to this day.
Dr. Thomas S. Pitt and his wife Eva made national news again in 1919 when they testified at the murder trial of the Reverend Henry Hall. The minister was accused of pushing his wife off the railroad bridge at Wells Depot and into the Little River. But that is a story for another column.
The Pitts ran the sanitarium until 1932 when another news report put them out of business. Dr. Pitt was one of only eight physicians in the country reported by the Federal Trade Commission to have treated patients with experimental Radium Water. The resulting radiation poisoning proved deadly for one unfortunate Pittsburgh man and the careers of seven physicians. To learn more about the North Pole Controversy and Radium Water go to www.mykennebunks.com/sanitarium.htm.