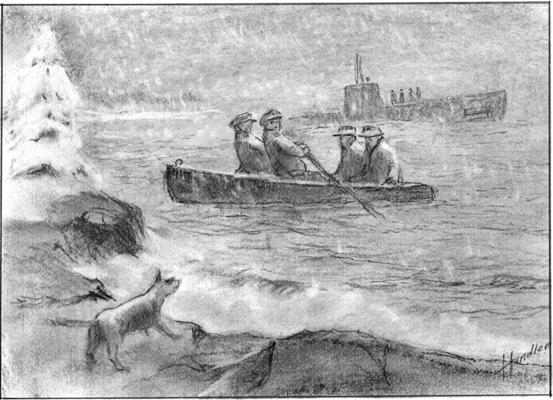 German submarines swarmed to American waters when the United States formally declared war on Germany and Italy on Dec. 11, 1941. By the following June, 171 American vessels had been torpedoed off the east coast of the Unites States. Coastal Mainers, many of whom made their living from the sea, felt like sitting ducks.
Maine's director of civilian defense, Col. Francis H. Farnum, announced on May 22, 1942, that foreign agents both male and female had already landed on the coast of Maine and were investigating shipping prospects. Others, he warned, had come into the state over the Canadian border. No details were disclosed, but he certainly inspired vigilance in coastal Mainers.
Minefields and indicator loops designed to magnetically detect submarines, were installed on the floor of Casco Bay. A mobile artillery unit was quickly deployed to Biddeford Pool. Nearby, an observation tower was constructed of reinforced concrete to look like a church. The whole coast was patrolled by sub-chaser boats and dirigibles. Windows were blackened, civilian lookout posts were manned and curfews were strictly observed.
At about 10 p.m. Nov. 29, 1944, the coning tower of U-1230 pierced the surface of Frenchman's Bay off Crabtree Neck. Two uniformed German sailors pulled a rubber raft through the hatch and quickly inflated it on the bridge. Two men in American streetwear emerged next, carrying satchels that virtually bulged with handguns, diamonds, and $65,000 in cash supplied by the German government to finance their espionage mission.
William Curtis Colepaugh, an emotionally unstable 26-year-old native of Niantic, Conn., had flunked out of Massachusetts Institute of Technology and enlisted in the United States armed forces. He soon became disillusioned with his potential for upward mobility and decided to give the occupation of Nazi spy a whirl. Erich Gimpel was at least the genuine article. Born in Merseberg, Germany, some 35 years earlier, he arrived in the United States intent on sabotaging America's atomic bomb program.
In a 2004 interview, former CIA covert operative Richard Gay, who has researched the incident extensively, asserted that as the Germans pulled away from the U-boat, a dog started barking on shore. The sailors, Fritz and Konrad, rowed the spies back to the sub to get sausages to quiet the frantic animal before proceeding to the beach.
By the time the four men landed it was snowing hard. Fritz and Konrad earned bragging rights by stepping onto American soil for a moment to flash a "Heil Hitler" before rowing back to their vessel. The plain-clothes spies grabbed their satchels and started off on a four-mile hike to Route 1.
Their city-folk attire was not typical snow gear for a Hancock native, and they were soon spotted by 17-year-old Harvard Hodgkins, who was driving home from a dance. A few miles up the road, Mary Forni drove by them on her way home from a card game. She almost offered them a ride, but something told her to keep driving. When she later mentioned seeing the inappropriately dressed strangers to her husband, he dismissed her concerns.
Gimpel and Colepaugh were resting for a moment in the village when a taxi serendipitously pulled up and agreed to take them to Bangor for $6. Once there the spies caught a train to Portland, where they had breakfast before boarding the 7 o'clock regular to Boston. They travelled on to New York the following day and would have disappeared forever into the city if William Colepaugh had not tried unsuccessfully to slip away from the mission with the bag of diamonds and the $65,000. He approached the FBI and disclosed Gimpel's whereabouts, claiming to be a double-agent. Both men were sentenced to death but were eventually released after many long years of incarceration. The German, Erich Gimpel, was deported. He published a memoir in 2003 titled "Agent 146: The true story of a Nazi spy in America."
The U.S. Navy was secretive about just how close the U-boats were to Maine civilians during the war. On April 23, 1945, the U. S. Navy sub-chaser USS Eagle exploded three miles off Cape Elizabeth, tragically killing 49 of her crew and injuring 13. For more than half a century the Navy insisted that a boiler had exploded onboard, but recent exhaustive research proved that the vessel was torpedoed by a German U-boat.
Eye-witnesses recall the night the wreck of the USN sub-chaser blimp K-14 was salvaged at Southwest Harbor. She was "riddled with bullet holes," but to this day, the Navy blames pilot error for the loss of the dirigible.
When Nazi Germany surrendered on May 7, 1945, the Portsmouth Naval Shipyard in Kittery was the largest American submarine base on the Atlantic coast. Four German U-boats operating in the Gulf of Maine surrendered at the shipyard. One of the subs was displayed in the Piscataqua River and thousands of Mainers travelled miles to see what had so long been the object of their terror.