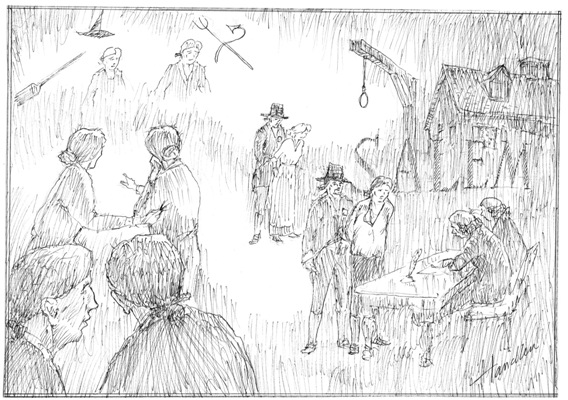 Wells minister, Rev. George Burroughs was hanged as a witch during the Salem delirium of 1692. A century later, Widow Elizabeth Smith of Arundel was accused of witchcraft at the York County Court of Common Pleas and Sessions in Biddeford.
Rev. Burroughs was probably a hothead and a show off who liked to impress his neighbors with feats of amazing strength. According to testimony at his trial he could lift a molasses barrel with one finger.
George might not have been a perfect husband, either. When his second wife died her funeral expenses went unpaid. As the preacher at Danvers, Massachusetts he was embroiled in a turf war within the Salem religious hierarchy and could not get them to pay his salary. John Putnam, the keeper of the coin at the Danvers church, also allowed him to buy two gallons of rum on account. Burroughs skipped town with a new wife, leaving word that his salary would easily cover the bills he had with Putnam. A debt charge was filed against him in Salem.
Burroughs preached in Portland, Maine until the Indians drove his family south to Wells during King Williams War. They were living in Wells on April 30, 1692, when John Putnam's 12 year old niece, Ann and George's former maid, Mercy Lewis, accused the minister of witchcraft. The girls testified that he had appeared to them in a vision and admitted to killing his first two wives. Three constables were sent to Wells to deliver the accused to Salem. Burroughs was confident that the preposterous charges would be dropped once he appeared before Judge Jonathan Corwin who owned considerable acreage and mill rights along the Mousam River. Emerson W. Baker, of Salem State College, proposes a connection between Maine land dealings by the likes of Judge Corwin and the escalation of the Salem witch mania, in his article "Maine, Indian Land Speculation, and the Essex County Witchcraft Outbreak of 1692"
Burroughs offered to show the authorities the shortest route back to Salem through the woods to South Berwick. The constables were apparently compelled by some magic spell to follow his advice. Along the way a lightning storm spooked their horses and caused them to rush through the trees at a high-speed trot. The path they traveled- thenceforth known as Witchtrot Road- eventually led them out of the woods and on to Salem, but the constables were convinced that the minister had caused the storm with witchcraft. They testified to that effect at his trial. Judge Corwin and his brother in-law, Judge Hawthorne found Rev. George Burroughs guilty of witchcraft and he was hanged August 19, 1692.
One hundred and four years later witchcraft hysteria visited the good people of Arundel. John Hilton was walking home one evening when Widow Smith appeared on the road six yards ahead of him. The ox goad he was carrying started slipping through his hand by some power that he decided must be witchcraft. He caught up to the old woman and tried to strike her with the stick. Instead of injuring her he somehow received a violent blow to his own lower back.
John was in a state of insanity when he got home. His father in-law, Eaton Cleaves confined the young man and asked Widow Smith to visit him. While she was in his presence John spoke rationally but as soon as she was gone he was again insensible. The widow, in an effort to make peace, shed her own blood as an antidote to the bewitching but John's condition did not improve.
Things got really ugly when the women of the family got involved. John's sister Elizabeth Smith, his wife Sarah and nieces Dolly Smith and Molly Hilton tried to do away with the widow by concocting an incantation of their own involving home grown herbs and some of John's bodily fluids. When that didn't kill the old woman they told her "she ought to have been long ago in hell with the damned; that they would let loose the man whom she had bewitched to kill her."
John Hilton did escape confinement. He violently beat Widow Smith with a stick and almost choked her to death. Nearby, his niece egged him on. "Kill her, Uncle John," she cried. The witchcraft delusion spread throughout their Cleaves Cove neighborhood causing one house to be entirely demolished.
With this bizarre case before him at the Biddeford court, Justice Wells refused to hear any arguments about magic spells. According to a November 17, 1796 article published in "The Eastern Herald and Gazette of Maine," he told John Hilton's family that the difficulties and the dissention in their neighborhood arose from their ignorance, not the poor old woman's witchcraft. The accusers were convicted of assault and battery. Each was required to pay $100 bond that would be returned to them if they kept peace with the Widow Smith until the following August.
What a difference a century makes. In Salem, it had been the Judges and the religious leaders who fueled the fires of hysteria. The wise Biddeford Judge put a quick end to the Arundel witch hunt by making it clear that accusing someone of witchcraft would be expensive.