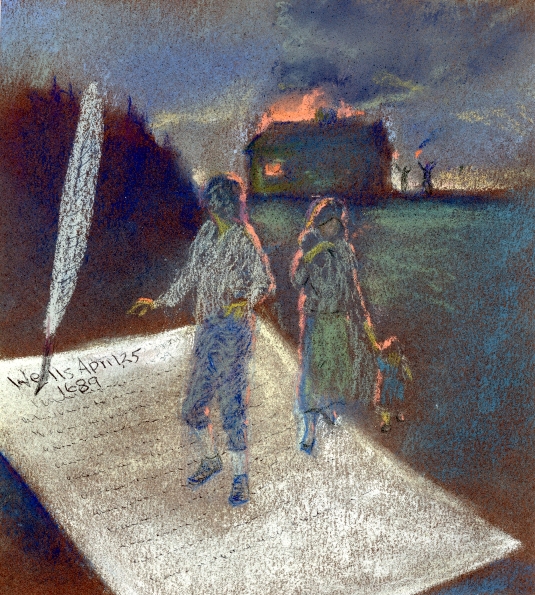 The town of Wells was settled by the Antinomian Minister John Wheelwright and his followers in 1641. Rev. Wheelwright's son and grandson, Samuel and John respectively, owned two of the garrisons in Wells in April of 1689 when Indians attacked Saco and Cape Porpus during what is referred to as King William's War.
After the devastating Indian attacks of King Philip's War, Wells had taken precautions and fortified several garrisons, two of which were owned by the Wheelwright family. Wells was considered the colonial stronghold of Maine in 1689. Inhabitants of the besieged towns to the east of Wells took refuge at the garrisons there. Samuel and John Wheelwright were among those who wrote to Boston for military assistance in a letter dated April 25, 1689.
King James II of England, who had declared the old charter of the Massachusetts illegal, had fled England and William, Prince of Orange, and his wife, Mary, were invited to ascend the throne. Colonists hoped that the new leadership would honor their old charter thereby restoring a degree of self-rule to New England.
When the soldiers stationed at Saco and Cape Porpoise got word of the abdication they left their posts and marched to Boston to participate in the overthrow of Governor Edmund Andros on April 18, 1689. This left the towns vulnerable to Indian attacks.
The government in Boston was in chaos. The frantic settlers at Wells did not know who was in charge but desperately wanted to summon assistance for their neighbors in Cape Porpoise.
An original letter, addressed to the unknown "superior powers now in being at Boston" is preserved by the Massachusetts Historical Society. It reads:
"WELLS ; 25th Aprill 1689 — May it plese your Hon. wee haue receiued certain information that ye 2_th of this Instant being Lords day, the Indians; suposed to be eight or ten ; sundry of them well known to y inhabitance of Saco came upon said town, surprising y people, in their houses: wounded to y number of fiue or six, burnt two houses, with all the goods y owners with great difficulty escapeing: y next day they came to Cape-Porpus burnt a house begun to be Garrisoned, belonging to Nicho Moorey slew one young man: uiz: John Barrett (whose father and two Brothers, were killed by sum Indians as is supposed, ye last fall) took y slain mans horse and another out of a pasture and rode about triumphantly in uiew of y desolate Inhabitance: who for their safty) were forced to forsake y Terra firma or main. and to betake themselues to an Island: where is a Garrison, where they remained in a deplorable case, and are subject to staruing, or murder, or both if speedy succor be not afforded. their cattle, it is to be feared, are mostly killed y Indians shooting uery often in y woods. y certainty, of y premises we reciue from two men, who went on purpose for information : of which we thought meet to giue your Hon an account so leauing your Hon to y Protection of heauen, and y sad case of y distressed to your most serious compastionate thoughts. wee subscribe — Your Hon. most humble seruants".
In spite of best efforts in Wells, help from Boston was not forthcoming. The settlers at Cape Porpoise were trapped behind the Little Stage Island fort for days. The Indians had stationed themselves at the narrow strip of land that, at low water, connects Stage Island to Little Stage Island and the inhabitants were facing certain capture or death. Nicholas Morey, formerly of Wells, whose home at Cape Porpoise had been burned in the attack, took it upon himself to row to Portsmouth for help in the dead of night, with a broken leg, in a broken boat. Charles Bradbury described the incident in his History of Kennebunkport. "there was but little chance of his reaching Portsmouth in safety; but with this forlorn hope, they continued to defend themselves the next day without provisions, till their last charge of ammunition was in their guns." Miraculously, Morey arrived safely in Portsmouth and returned with an armed sloop to rescue his grateful neighbors. To read more about this incident and King William's War, visit www.mykennebunks.com and click on the Stage Island Fort page. Many thanks to Kennebunkport Artist Frank Handlen for his original drawing.