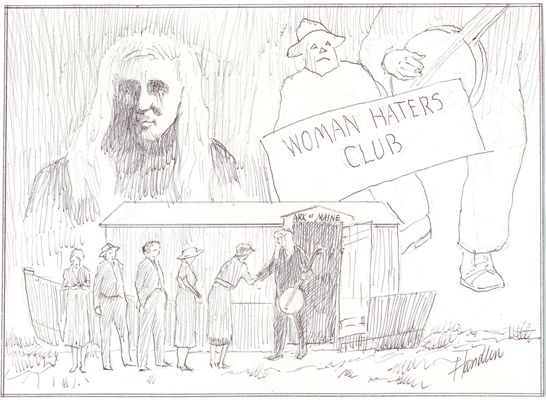 Self-proclaimed, World's Champion Woman-Hater, Albion L. Clough, lived in a converted boat on Cape Neddick's River Road from 1936 to 1944. A master of public relations, the long-haired artist made a living selling postcards, folk art and inflated misogyny. When asked if specific women had turned him against the entire sex, Albion always said, "I've had two of 'em; one soft as a squash, the other a holy terror."
Albion Clough told anyone who would listen that he had walked away from a lucrative fishing camp business in Brighton, Maine, to escape his second wife, Eleanor's caustic disposition. In 1936, Cape Neddick fishermen allowed him to drag a decrepit, 28 foot sailboat from the Cape Neddick River to a lot near the Atlantic Shoreline Railway tracks. He roofed it over for summer habitation and christened it the Ark of Maine. A stuffed snake was nailed over the front door to scare away the ladies. Brother Bill, a homemade dummy, sat in front of the ark with a sign around its neck that read, "Now forming woman-hater's club."
The dummy, Albion said, was there to entertain the multitude of females he expected would try to court him at his ark. His contention that "women prefer dummies" smacks of sour grapes in light of the fact that, contrary to Albion's claims, Eleanor had actually left him some 20 years earlier. Census records indicate that by 1920, without the benefit of divorce, Albion's wife had moved to Harmony, Maine, and was supporting herself and her youngest son on a nurse's salary. Albion continued to eek out a marginal existence operating Clough's Trout Farm on the road between Brighton and Wellington, Maine, until his retirement at age 70.
The transplanted retiree built a winter shack next door to his ark that bore the name Eleanor Lambert. One might surmise the shack was named after the long lost wife he claimed to despise. It became the headquarters of a woman-hater's club that boasted over 100 members. Men came from far and wide to compete for the championship of woman-hating, but Cape Neddick's titleholder never relinquished the crown.
Albion Clough, who looked much younger than his years, had a shock of snowy white hair that tumbled over broad shoulders. He played the organ, the banjo, the guitar and reportedly had a beautiful tenor voice. Though referred to as a hermit, he was exceedingly sociable. In 1937, popular radio personality Phillips Lord invited him to star on an episode of NBC's "We the People" and the hermit jumped at the chance. York, Maine historian Peter A. Moore wrote about the radio program in his 1993 "Unknown History" column. "Appearing on the same show with him was Mollie Tickle Pitcher from Turnip Top Ridge," wrote Moore. "Upon learning that he was a woman hater, she remarked 'he ain't never met me yet.'" Mollie wasn't the only woman to take Albion's professed misogyny as a challenge. Women, undeterred by the reptilian guard, cued up at the ark to try to change his mind. The woman-hater cheerfully indulged them.
In October of 1937, "The Story of Albion Clough in his Eyeless Ark," appeared in the Chicago Herald & Examiner and a similar article was printed in the New York Times. Albion Clough became a bona fide celebrity. Universal newsreel photographer, Dick Sears came to Cape Neddick to make a movie about the woman-hater's life and reportedly got "two good reels for Stanger than Fiction." Albion told a reporter for the Portsmouth Herald that whether or not he made it big in the movies, his plan was to go on hating women. "In spite of his so-called hatred there was one concession that he did make," wrote the correspondent. "And that is his friendliness for a neighbor who brings him a baked bean supper each Saturday night. His appreciation to her is gratefully expressed whenever he mentions her delicious beans."
As Albion's notoriety grew so did his marketable skills. In 1937, he claimed to know the future. His weather predictions were vague at best. The date he prophesied for his own demise was off by four four years and one month. At the end of August, 1944, the Portsmouth Herald reported, "The Hermit of Cape Neddick is dead. The white leonine mane of Albion Clough will be seen no more bending above his paintings or shaking in wrath as he gave his reasons for being a woman-hater. He leaves a wife and two sons."