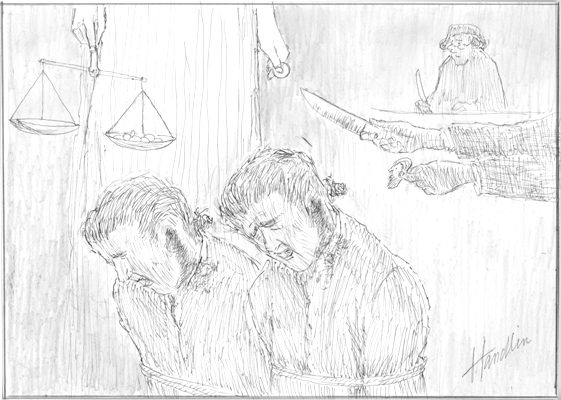 Counterfeiting was a huge problem in Colonial America, so much so that it was considered a capital offense in the 17th century. By 1752, the year the Webber brothers of Wells were accused of the crime, the death penalty was no longer enforced but the sentence did stigmatize perpetrators for life.
The Webber family of Wells had settled near Kennebunk Beach around 1722, on what is today known as the Sea Road. Neighbors were still few and far between in 1724 when Indians killed three of them at Gooch's Creek. By 1752, John Webber and his wife, Abigail Harding Webber, had raised at least two daughters and five sons there. Most of the men in the family were mariners, coasting frequently to and from Boston on their own vessels built in Wells. The perils of a frontier and seafaring life must have been acutely familiar.
John and Abigail Webber gained some notoriety with local historians for being shunned by their neighbors at the Second Parish Church. A sailor in their care had reportedly died from injuries he sustained in a shipwreck at Iron Ledge about 1750. Daniel Remich wrote in his "History of Kennebunk" that parishioners judged the Webbers to be neglectful caregivers and therefore responsible for the sailor's death.
Two of the Webber's teenage sons, Jonathan and John Jr., sailed to Boston on a new coasting sloop in late October 1752. They spent a few days in Boston and Cambridge "conducting their business." At dusk on Monday, Oct. 23, they were apprehended for the crime of knowingly passing counterfeit Spanish pieces of eight and were confined to prison in Boston to await trial.
Evidence against the boys was pretty strong. Some of the suspicious coins were found on their persons as was a lump of the composite metal from which the coins were fashioned. The police told a reporter for the Boston Post-Boy that the material was likely a blend of hard pewter or tin, since with some strain it could be bent. Jonathan, 19, and John Jr., 14, were clumsy counterfeiters. Their coins were not of the proper weight and their artistry was sorely lacking.
"The stamp is thick and obscure and the decoration round the edge very uneven and irregular," wrote the Post-Boy reporter. Further investigation revealed more raw materials stashed away on their new coasting sloop.
Two months after the Webber brothers' arrest, it was reported in the Boston Gazette that they had appeared before a judge and pleaded guilty to "forging and uttering a piece of pewter and other mixed metals to the likeness of a Spanish milled piece of eight."
On Jan. 4, 1752, according to the Boston Gazette, "John and Jonathan Webber, own brothers of Wells, were sentenced at Superior Court of Judicature, Court of Assize, to be set in the pillory for the space of an hour to have each of them one of his ears cut off, to be publicly whipped twenty stripes and then to be committed to the house of correction and there kept to hard labor for three months and to give bonds for their good behavior for a year."
Both young men served their time and were married within a year of their release from prison. Jonathan and his wife moved in with his parents at Kennebunk Beach. No record has been found of Jonathan's children, but he and his wife still owned the family homestead in 1760. John Jr. and his wife Mary had a large family. They moved for a time to land on the banks of the Saco River, but had returned to Wells before the start of the Revolutionary War. Both brothers were middle-aged in 1777 and of Wells, when together they enlisted in Capt. Daniel Wheelwright's company to fight for American independence.
Wheelwright's company marched as rear guard with Col. Ebenezer Francis's regiment in the retreat from Fort Ticonderoga that left Lake Champlain, the coveted highway between the colonies and Canada, in the hands of the British. On the morning of July 7, 1777, while the colonial soldiers were eating their breakfast, British forces caught up with them and attacked.
The Webber brothers were in the second line of defense. Their company resisted valiantly but in the end the British forces prevailed. Some 300 American soldiers died that day. Among the casualties was Jonathan Webber of Wells. For a time it was believed that his younger brother John Jr. had suffered the same fate. He had in fact been captured by the British and taken to Quebec. From there, he was carried to Great Britain where he remained a prisoner in the goal until Dec. 15, 1781. At that time, he was exchanged for a British prisoner and sent to France. John Webber Jr. arrived home in Wells on April 28, 1782, and filed with the General Court of Massachusetts to have his back wages granted.
Life in Colonial Wells was hard. The Webbers and their neighbors faced harsh treatment from the unforgiving environment, the Indians, the law, the war and each other. If the Webber family was shunned at the Second Parish Church in Kennebunk as has been claimed, the fact that their two sons Jonathan and John Jr. were each missing an ear for their youthful crime of counterfeiting might have had something to do with it.
Special thanks to Hugh Spiers for his assistance with the confusing Webber family genealogy!