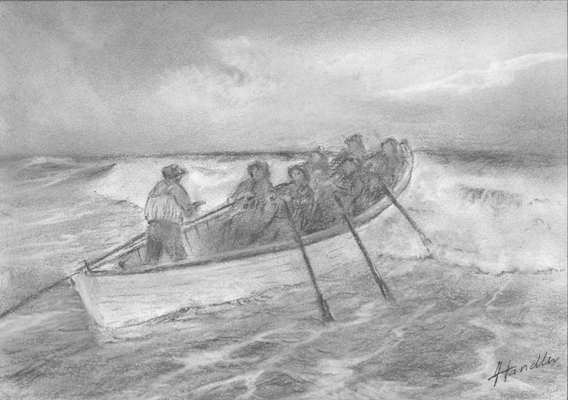 Surfmen at Fletcher's Neck Life-saving station at Biddeford Pool protected our coastline for 100 years. They rescued countless men and women from shipwrecks, searched for fishermen who hadn't returned from their days work and brought drunken beach wanderers home to their wives. During the days of early aviation, the patrolmen even announced the comings and goings of pioneer pilots.
There had been a make-shift volunteer life-saving system since the late 1700s but in 1872, Mainer, Sumner I. Kimball was appointed by President Grant to head up the Revenue Marine Bureau of the U. S. Treasury Department. Kimball was charged with organizing and standardizing the service that would eventually evolve into the United States Coast Guard. He established life-saving stations along the coast manned with physically robust local fishermen, already familiar with the dangerous rock formations nearby.
Kimball was adamant that keeper and crew appointments should not be based on political considerations. During his long career, he frequently fought Congress to keep it that way. Much to the chagrin of a very vocal Biddeford Pool station keeper, Congress eventually won out and lifesavers were hired from a list of eligible applicants, without regard to their familiarity with local hazards.
The four original life-saving stations in Maine were established at points along our coast that were deemed most dangerous to sailing vessels; West Quoddy Head, Cross Island, Crumple Island and Biddeford Pool. Wood-frame boathouses were erected and life-saving service commenced on December 1, 1874. Each station contained a large downstairs room for a life-boat and all the necessary implements and paraphernalia. Behind it was a general cooking and off-duty room. Sleeping quarters for the Keeper and surfmen were on the second floor.
Keepers were required by law to record live-saving business in a logbook, including the direction and force of the wind every day at sunrise, noon, sunset and midnight. Once a week, the log was sent to Washington. Surfmen training was strictly regulated. Putting a lifeboat in over the breakers from the beach required great skill and timing. The men practiced all day every day, performing standardized live-saving equipment drills. At night, no matter the weather, two men continuously patrolled the coast on foot, one going right from the station and the other, left.  When a distressed vessel was spotted, wheel-mounted lifeboats weighing approximately 1,000 lbs were pulled to the shore nearest the wreck and rowed out to the rescue, sometimes over a fearsome sea.
On average, two ships were wrecked near Biddeford Pool every year. Some years, when the weather was particularly harsh, there were many more. Once the Life-saving service was established, shipwreck survival rates improved dramatically. Fletcher's Neck surfman saved the lives of hundreds of stranded men and women over the years. They were not, however, able to save the crew of one Canadian schooner that went ashore at Beach Island in a terrible 1884 storm. The following year, the lime schooner Silver Spray of Rockland caught fire near Biddeford Pool. The over-worked employees of the Fletcher's Neck life-saving station were accused of negligence. The vessel was a total loss but her captain testified that the Biddeford Pool men performed their duty admirably. Fortunately, a life-saving station was established at Cape Elizabeth, ME in 1888, to lighten their load. In 1904, Keeper, L. C. Totman told a reporter for the Daily Boston Globe that December 5, 1900 was as tough a night as he ever experienced in his live-saving career. That night three crews of twelve men were taken from stranded vessels at the Pool.
Larger, more modern accommodations were built next to the boathouse at Fletcher's Neck in 1904, but the surfmen endured a very difficult winter, none-the-less. One of the men was washed overboard during a drill and was only saved by holding on to a piece of floating ice. The lifesavers all suffered the grippe that year and their mascot Fido, a handsome King Charles spaniel, had to fill in on patrol.
The Coast Guard maintained the Fletcher's Neck station until 1973. After serving as a meeting space for York County Counseling Services the buildings were finally converted for use as a private home in 1999.
In spite of the fact that the heroic Biddeford Pool surfmen, who risked their lives for the safety of others, were initially paid only $40 a month, there was never a shortage of local men willing to perform this valiant service.