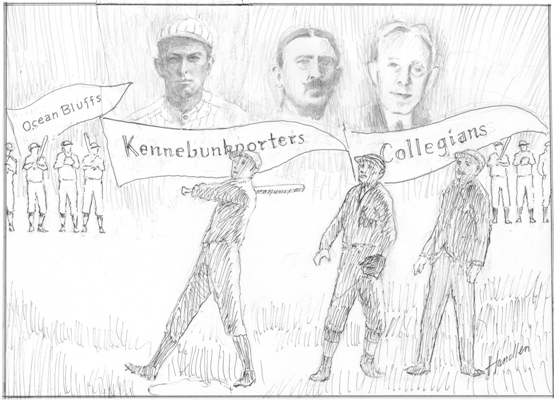 Mr. William B. Walker of Springfield, Mass., played baseball against a Kennebunkport team in 1872, even before the big hotel was built on the bluff. So he reported to the editor of the Wave in 1889. By then, each coastal resort area had its own team. "The Goose Rocks beat the Ocean Bluffs 5 to 3," wrote the Wave sports reporter that summer. And later, "The Granite State base ball club and the Gooch's Beach team had a lively match." When a game was scheduled against the York Beach club, local boys piled onto one of Joe Jeffries' barges and made their way down the coast to rival turf. Temporary diamonds were laid out on the beaches or in open hay fields.
Teams were made up of year-round residents and summer folk. The Ocean Bluff team had the good fortune to have Penobscot and Passamaquoddy Indian boys camping nearby at Indian Canoe Landing. Writer Albert Reed vacationed at Cape Arundel in August of 1889 and raved about the Indians' passion for baseball in an article he submitted to the Boston Daily Globe. "The most dangerous habit they are addicted to is baseball. All the young braves are deeply versed in the slang and rules of the game and know all about the league standing, while several of them are practicing for positions on the Boston nine."
Eighteen-year-old Louis Francis Sockalexis, soon to be one of the first Native Americans to play professional baseball, was a member of the extended family of Penobscot Indians summering at Cape Arundel in 1889. Though he wasn't mentioned by name in the Globe, that summer he was listed as third baseman on Kennebunkport's 1902 roster after his brief career as the original Cleveland Indian. Some said he could have been the greatest player of all time if only he hadn't suffered from alcoholism.
The Kennebunkport Historical Society owns a beautiful photograph of renowned Boston and Kennebunkport artist, Abbott Fuller Graves, posing with his baseball team on the front lawn of his Ocean Avenue home. Graves sponsored and managed a local team of grown men in 1915; men with names still familiar in Kennebunkport, like Towne, Littlefield, Gould, Whitehead, Eldridge and Butland. Curtis and Earnest Coombs of West Kennebunk played right field and catcher, respectively. Their older brother John, meanwhile, was playing professional baseball with the Brooklyn Dodgers.
Henry Parsons donated land on School Street for a permanent ball park and Frank Atkins was hired to keep it trimmed and tidy. Poet and local shopkeeper Silas Perkins took over as the team's manager in 1916. The Kennebunkporters continued to play until 1918 when World War I made exuberance for a game seem inappropriate.
In 1922, summer resident George Herbert Walker Jr. brought new life to the Kennebunkport baseball scene by organizing a team he called the Blue Stockings. The following summer he hired John W. Coombs as player/manager. Colby Jack Coombs, as he was known to the fans, had taken a coaching job at Williams College after a brilliant career in professional baseball. With summers off, he was free to lend his expertise to the Blue Stockings.
Walker and Coombs were determined to establish a top-notch semi-pro ball club. A new grandstand was erected at Parson's field and the Yale groundskeeper was engaged for the season. Coombs played right field. Walker caught the ball. He also held the strings so coyly referred to in the Lewiston Daily Sun on March 1, 1923. "It is reported that strings on a large purse have been unknotted to secure a classy outfit of semi-pro ballmen. Summer residents are keen for a first class team and propose a payroll that will rival that of the Augusta millionaires."
Walker and Coombs assembled the best collegiate talent available in 1923. Jack's best players at Williams were recruited as were the crème de la crème from Dartmouth and Princeton. Local sports fans were thrilled with the prospect of a winning ball club but none were happier than the young ladies at Cape Arundel, who reportedly scrambled for their dance cards. The team was referred to as the Collegians by the press; and the name stuck.
By 1950, Jack Coombs had retired. With few interruptions, Herbie Walker was still calling the shots for the Kennebunkport Collegians. Kenny Raynor was his manager. Yes the same Kenneth Raynor who would become President of the Cape Arundel Golf Club. George Herbert Walker Jr. told a reporter for the Portland Press Herald that he didn't expect the 1950 Kennebunkport Collegians to be financially successful. He regarded the maintenance costs as an investment in good fellowship; a common interest for town people and summer visitors. "That's worth a lot," he insisted.
The Collegians didn't play in 1951. Many of their prospective players had been drafted to serve in the Korean War. Kennebunkport baseball fans, proud of a their semi-professional team and the town's rich baseball history, hoped the boys would be back after a few years but it was not to be. George Herbert Walker Jr., uncle to two United States Presidents, co-founded the New York Mets in 1960.