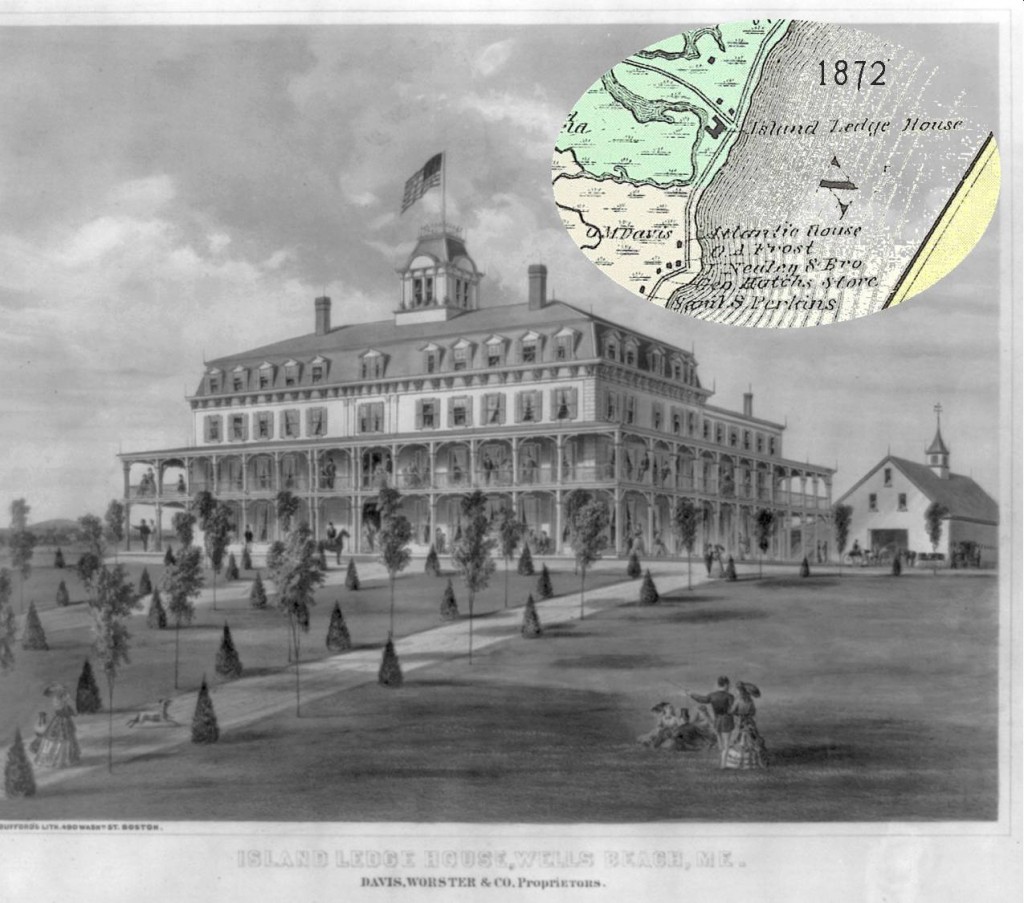 Boston & Maine Railroad Company built the Wells Beach station in 1872 after much advance press.  Anticipating improved access to "watering" summer folk, resourceful businessmen Harrison B. Davis, his brother Alfred, and William A. Worster, started quietly buying up beachfront parcels of land in 1870.
A large, opulent hotel was erected in 1871 at the ocean end of what is today called Mile Road.  Over 1400 guests were entertained there during the first season.  The proprietors celebrated by adding an ell that contained sixty additional rooms which were occupant-ready by June of 1872.  Island Ledge House was advertised to have large airy single and en-suite rooms, wide halls lighted with gas, extensive verandas with unobstructed sea views on three sides, a billiard hall, bowling alleys, a croquet lawn, sailboats with skillful skippers and a quadrille band in constant attendance.  For the first few years, the day to day operations of the hotel were supervised by the Davis brothers.
William A. Worster took over in 1874.  He placed a new ad that described the hotel as having "four stories with a mansard roof and about 200 rooms."  Such abundance could be enjoyed for just $3 a day.  In contrast to the success enjoyed during its first few seasons, the hotel was losing money under Worster's management.
When the vacant, heavily insured complex of buildings burned to the ground on February 15, 1878, after five short years in operation, Worster was accused of incendiarism; a charge he denied.  The case was settled out of court but further investigation uncovers the fact that another heavily insured building owned by Worster had burned in 1870 just months before he invested in the hotel development.
Worster married the Berwick widow Juliette Ricker in 1875.  The fact that she came from a pretty well-connected family probably had not escaped his notice. Julliett's brother, Sherman A. Ricker, broadly known as the "Corn King of the Chicago Board of Trade", was, at the time of his sister's wedding, living a wildly reckless life and Juliette was one of his only heirs.  When the "Corn King" died in 1882 his estate was vast.  William Worster's bride inherited hundreds of thousands of dollars.
Meanwhile, William Worster fought arson and insurance fraud charges for several years before settling out of court. When his subsequent business practices came under new legal scrutiny he transferred all his assets into his wife's name to avoid having to pay another settlement.
The Boston Daily Advertiser reported the story on March 27, 1886.
"Strafford County Jail tonight contains an exceptional prisoner – William A. Worster of Great Falls. Two years since the Grand Jury of York County Maine found an indictment against him for obtaining $900 by false pretenses from Sewell I. Cowell of Berwick.  He then changed his residence to Great Falls, NH and the indictment still hangs over him.  The Supreme Court at the February term, 1885, rendered judgment against Worster for $6054.  Worster placed his property out of reach of the Sheriff who then had him arrested on suspicion of an intent to leave the State. Worster declared he had no money and wanted to take the poor debtors' oath, thinking the plaintiff would not push the case any further.  He was astonished to find the council for the plaintiff had lodged $1000 in the jailer's hands which is guarantee for the prisoner's board for eight years.  Worster declares he will stay, if necessary, rather than pay."
Worster served five years in jail.  His stubbornness had been based on the assumption that his wife would continue to fund his litigation but it didn't work out that way.  Juliette ran off to Europe with prominent Somersworth, New   Hampshire businessman Emery J. Randall in 1888 leaving William A. Worster the pauper he had claimed to be.