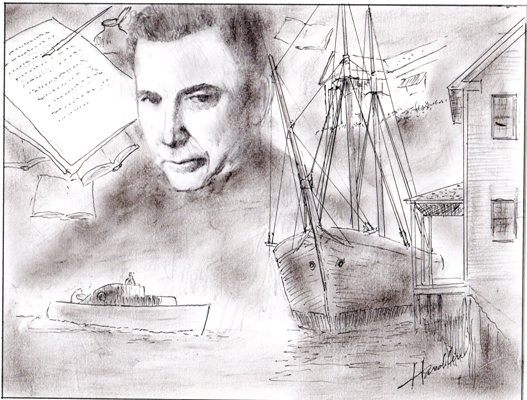 News of the death of Booth Tarkington in 1946 fell like a blanket of grief over the town of Kennebunkport. For more than 40 years the author had whole-heartedly embedded himself in his beloved summer community in a way that changed the town and the man forever.
Newton Booth Tarkington was born in Indianapolis, Ind. on July 29, 1869. He attended Purdue University and then Princeton University, but didn't graduate from either institution. He sought work as an illustrator and a writer during the 1890s but it took almost a decade before he could make a living at it. Finally, in 1898, he sold a manuscript entitled The Gentleman from Indiana, which became a bestseller in 1900. Tarkington's career and financial prospects would never again be in doubt.
The writer first visited Kennebunkport in 1903 as a newlywed. His arrival at The Old Fort Inn was proudly announced in Kennebunkport's summer newspaper. Recovering from a serious case of typhoid fever, Booth spent that season falling in love with the town where he would summer for the rest of his life. His first marriage ended in divorce, however, and his daughter by that marriage died young.
A new life chapter began in 1912 with his second marriage to Susanah Robinson. Mr. and Mrs. Tarkington frequented the Old Fort Inn or rented cottages from Kennebunkport friends — like artist Abbott Graves — until proceeds from the wildly successful Penrod enabled them to build a beautiful summer home in 1917. No expense was spared. The new cottage on South Maine Street, called "Seawood," was mentioned by the editor of Kennebunkport's newspaper. "To the summer visitor the house has seemingly reared itself overnight like Aladdin's palace."
Tweedles, a play Tarkington wrote with Harry Leon Wilson, debuted on Broadway in 1923, starring Ruth Gordon. It is a gently satirical examination of two sides of the same snobbery. Though the play is set in a "fictional" Maine coastal resort, the tea room/antique shop where much of the action takes place is surprisingly similar to the real life Bonnie Brig Tea Room — so popular at the time with the Cape Arundel crowd. In the play, young lovers are foiled by strained relations between their families; hers, local and proud of their old New England heritage and his, seasonal residents of considerable means and social stature. The play was clearly poking fun at the all-too-real tensions between native Kennebunkporters and summer people from away, but nobody seemed to mind. In fact, the theme resonated with both.
Rumors circulated in the late 1920s that Tarkington was losing his eyesight. The author did not noticeably slow down in his professional life or his private life at the Port. He continued to create characters who had undoubtedly been inspired by the people he had met there.
Mary's Neck was published first, in serial form and then as a novel. It is a less than flattering portrayal of superficial, self-important cottagers at a "fictional" resort, located on a rocky promontory on the Maine coast.
Mirthful Haven is a novel about life in another "fictional" Maine resort town. Tensions swell in the old-fashioned village, still imbued with vestiges of the clipper ship and China trade days when it was visited by summer representatives of the outside world with their garish yachts and their exclusive country clubs. Young love is thwarted again by the great divide.
The character of Capt. Embury was supposedly fashioned after Capt. Dudley, a real life China Trade sea captain who lived on Elm Street. The fictional Harry Pelter is suspiciously like Francis Noble, whose refusal to give up his dilapidated shack across the river was at the time tormenting the Kennebunk River Club set, in real life.
Submerging himself in the nautical spirit of his work, Tarkington purchased the tired old Machias lumber schooner Regina in 1929. He blocked her up permanently at William Trotter's boathouse near the Nonantum and drilled holes below the waterline so she wouldn't rise and fall with the tide. A retired local sea captain, Blynn Montgomery, was hired as Regina's master ashore to handle licensing, maintenance issues, and to tell visitors true sea stories in a captain's hat, giving the vessel an air of authenticity. The Regina became a source of pride in the old seafaring town with her bowsprit extending out over Ocean Avenue. For Tarkington, the schooner and boathouse that he nicknamed "The Floats," functioned as a work studio and a gentlemen's clubhouse.
Booth Tarkington also loved motorboats. In June of 1930 a 45-foot cruiser, Zantre, was launched for him from Clemie Clark's Boatyard near the Grist Mill. Zantre was the third cruiser the author had owned in Kennebunkport. The first was named Zantee and the second, Zantu. All were named in honor of Mrs. Tarkington. Her given name was Susanah and her nieces and nephews affectionately referred to her as Aunt Zan.                                                            Continued below…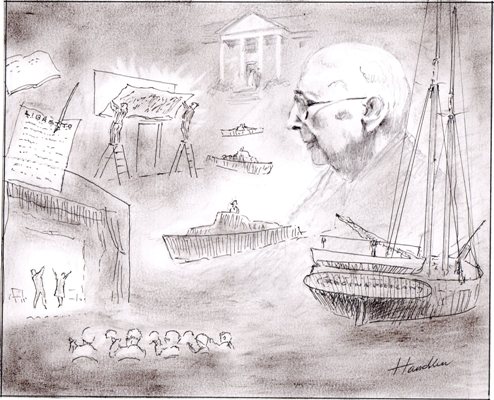 Year-round residents of Kennebunkport were not put off by the grandeur of Booth Takington's living conditions. They had grown to love him for his honest unaffected manner. Even his employees regarded him as a friend.
Francis Chick, his Kennebunkport chauffeur, was reported to have said, "We folks around here like the Tarkingtons. They're so common." Booth liked the line so much that he used it in one of his stories. Henry Thirkell — who acted as captain on Booth's motor cruisers — and his son Stanley who later took over the job, were like family. The Tarkingtons not only respectfully employed their neighbors, they quietly helped them solve personal difficulties.
For all his charm and generosity, the author was not the type to gush falsely, nor was he a saint. His public criticism of other writers was harsh. That same inclination to speak his mind sometimes allowed some anti-Semitic and racist feelings to see the light of day in local newspaper interviews. A reporter who visited the Tarkingtons at their Kennebunkport home in 1924 noted "The prettiest little black boy I have ever seen, with curling hair, an entrancing smile, and a white coat always opened the door to the Tarkington's summer home." But this was a different time. Bigotry was accepted and Booth had that way about him that invited forgiveness and friendship.
One of Tarkington's best friends in Kennebunkport was the notoriously cranky historical fiction writer, Kenneth Roberts. The two men shared a sardonic wit. Booth delivered with humor and a twinkle in his eye that made people believe his zings were all in good fun. Roberts wasn't blessed with that gift. They often met at The Floats in the afternoon for tea and writers' "shop talk."
Though Tarkington had been a teetotaller since 1912, he didn't judge his friends for enjoying a cocktail or two in his company. Kenneth Roberts spent many years documenting his efforts to achieve the perfect cocktail recipe. Journalist Francis Noble was another daily visitor aboard the Regina whose affection for alcohol was no secret. Noble, who was by then ostracized by Cape Arundel's finest, would row across the river from his shack every afternoon to argue politics with his conservative friend and to imbibe.
The rumors of Tarkington's eyesight problems had merit. He was almost completely blind by September 1930. An operation at Baltimore restored his sight in one eye, but the author was never again able to read or write for himself. His doctors ordered him to work no more than four hours a day and his secretary, Betty Trotter, took his dictation. By his own account, he napped every day after lunch in the captain's berth onboard the schooner Regina. Weather permitting, he chased whales in his motor cruiser after lunch. The Tarkingtons always dressed for dinner and entertained their friends with music, cards and an occasional game of charades. After all the guests had retired, Susanah Tarkington read her husband to sleep. The accomplished workaholic resigned himself to his newly restricted schedule but his health issues had taken a toll.
An Indiana youth met Booth Tarkington at Gooch's Beach in 1931. The boy was stunned by the famous author's appearance. He later wrote an article for his school paper that was picked up by an Indianapolis Weekly. Booth was described as a stooped, grey, frail-looking man in an ill-fitting bathing suit, chain-smoking enormous custom-made cigarettes with his name printed on each one. The boy's perception of Penrod's creator was deflated. The people of Kennebunkport continued to love him as the gifted, neighborly, generous human being they knew him to be.
A young Robert Currier, from Newton, Mass., came to vacation in Kennebunkport with his family in the early 1930s. He met Tarkington who encouraged him to bring his theatrical Garrick Players to Kennebunkport. Tarkington went so far as to trim and tailor parts of his play Tweedles to be performed by the troupe in 1933. Festivals featuring the plays of Tarkington were frequently performed at the Olympian Club and later the Kennebunkport Playhouse on River Road. The author was an enthusiastic patron, hosting cast parties onboard his schooner. Sometimes frustrated with the way his plays were performed on Broadway, Tarkington enjoyed the influence he had on Currier's productions. He also drew big name performers that might not otherwise have agreed to perform at the Kennebunkport Playhouse.
The Federal Works, a New Deal Agency, commissioned artist Elizabeth Tracy to paint a mural for the Kennebunkport Post Office Wall in 1940. Tarkington and Roberts spearheaded a movement to have it removed. The government-funded mural portrayed scantily-clad bathers at the beach. Not a fan of President Franklin D. Roosevelt or his new deal, Tarkington was very vocal in his opposition. "The painting is an eyesore and the whole town is ashamed of it," declared the author. "It's dismal, a combination of Coney Island and Mexican realism." It took four years, but in 1945 the mural was replaced with a more dignified painting by marine artist Gordan Grant. And the shipbuilding-themed mural that still graces the Post Office wall was funded by Kennebunkport citizen donations, not the U.S. government.
After a long illness, Tarkington died in Indiana at the age of 76. The 1947 Kennebunkport Town Report was dedicated to his memory. "The admiration that Kennebunkport felt for Booth Tarkington is inexpressible. The town is in much the same situation as are his close friends, many of whom are authors. Their affection for him was such that they were unable to write the usual eulogies that appear so frequently when famous men are taken from us. Kennebunkport misses and mourns him, just as all the world misses and mourns him."
Tarkington left his mark at the Kennebunkport Post Office; he left his mark on South Main Street where his beautiful Seawood has been converted into condominiums; he left his mark on Ocean Avenue where the schooner Regina was disassembled and sunk in 1952, being too deteriorated to save. For some, the sight of The Floats — between Nonantum Resort and the Kennebunk River Club — still evokes afternoons of camaraderie and literary conversation. Most of all, Tarkington made his mark on Kennebunkport hearts and history.